Business success depends on your ability to get the most from your interactions with other people. Through interpersonal relations with your clients, suppliers and colleagues, good communication skills are essential to building a strong corporate identity.
Outperform your competitors
You need a resilient strategy to adopt change and create demands, a strong governance to control the processes, which ensure high quality results, on-time delivery and best customer service. Furthermore customer satisfaction can also be built in as a process for measuring and control.
As customers' needs and demands change, the focus should be on the trend. Therefore creating the trend yourself would be the way to control the market. An in-depth understanding of the market and innovation will be the next building stone.
Then the people, who are from the board, the employees to the stakeholders, who interests have to be managed. The best way to manage interests and conflict of interest is to document guidelines and procedures, also known as Human Resource handbook. HR policies can be built in the governance as well. Most importantly, support from the management is needed to implement a strong governance, and a common understanding that changes are needed to maintain competitiveness, is crucial across the organisation.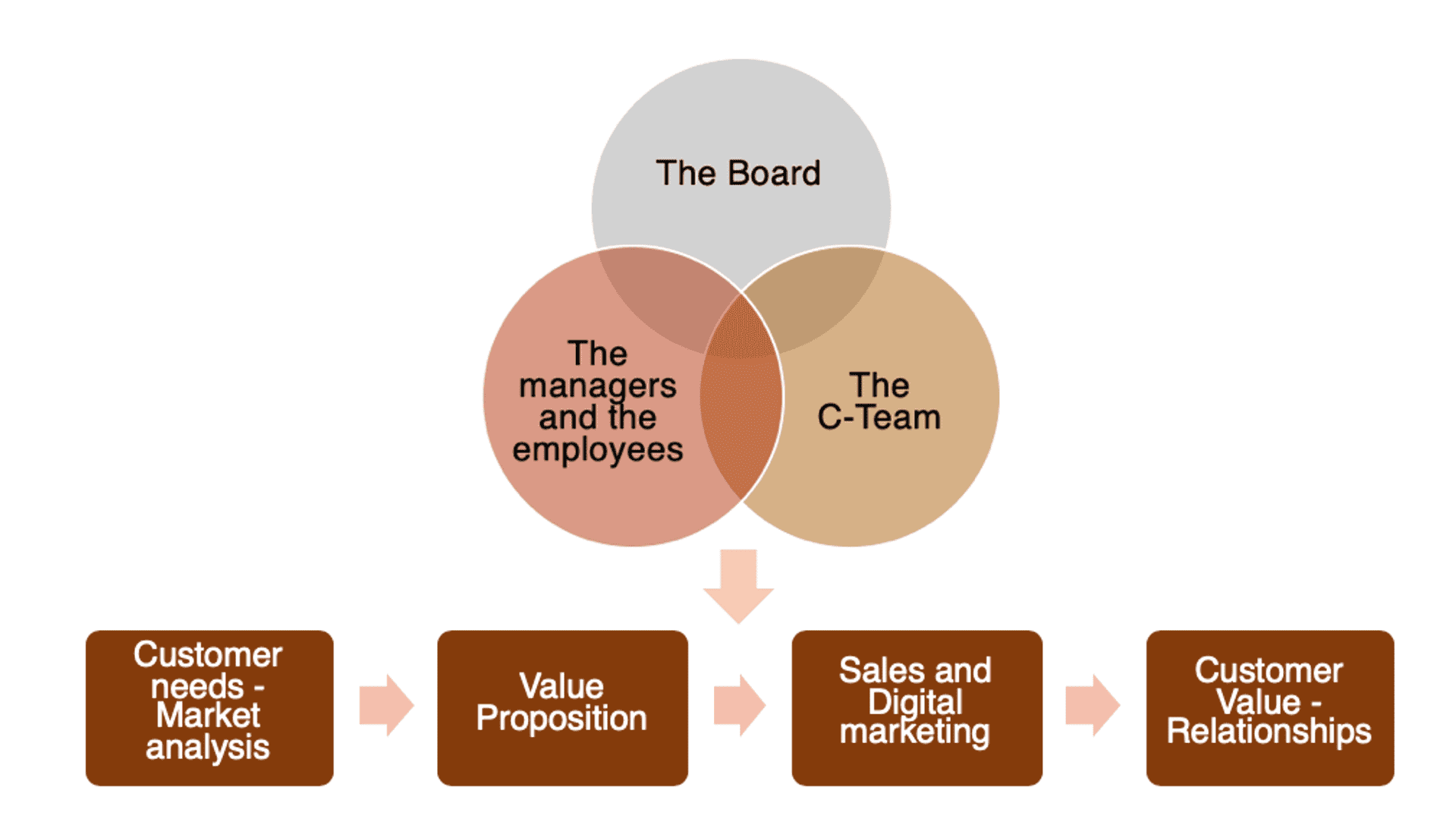 Strong governance across the organisation
Performance measurements
Targets and business performance measures are used to measure and monitor progress towards strategic targets. Business performance measures assess financial or non-financial performance in the four primary areas of the business including financial, learning/growth, internal processes and the customer. Some examples of the business performance measures are:
Budgeting can be an annual financial plan

KPIs (Key performance indicators) are targets on performance measures

The Balanced scorecard is a system designed to drill down strategic objectives into executable performance measures and action plans.

Six sigma is a tool that measures the stability and predictability of process results with a goal to limit process errors to no more than 3.4 errors per one million opportunities.

Performance dashboards is a performance dashboard giving overview of the key results areas within a business such as sales, financial, HR, operations and production.

CRM (Customer relationship management) to monitor customer satisfaction comparing to sales activities

CMMi, is a process model that provides a clear definition of what an organization should do to promote behaviors that lead to improved performance.

People performance appraisals conducted by the line manager with input from co-workers.
We provide a simple model to review your business performance starting from

Business Performance Review Process
agreement on the areas of business to review, which measures to use and SMART targets, which would feed into balanced scorecard to disseminate to the employees for their goal setting and performance review. We base the model and analyse of the data on The Capability Maturity Model Integration (CMMI) and Six Sigma method.
Business governance and resilience case study
Performance review
It is vital to know your business performance whether it provides products or services. A business performance review includes following activities
To assess core activities

To assess productivity and efficiency

To review your financial position

To assess competitor, customer and market disposition
in order to redefine business goals, create a strategic plan and set them in operation. By using a set of agreed business performance measures the management can set targets and goals for the business. As well as performance measures help the management in making decision and creating an effective business strategy, they also help the employees to set supportive goals relevant to their roles by using balanced scorecard system. The organisation uses balanced scorecard system to
communicate organisational vision and goals

align everyone's day-to-day work with organisational strategy

prioritize projects, products and service
Book an initial appointment to discuss how to review business performance and scale your business
Grant Funding
If you are a start-up business or working on a sustainability project, we'll help you find the most suitable grant funding for your organisation, and support you in the bid writing process.
We will help you formulate your project, perform market research and collect the information needed for your application. You need to create a project plan, summary, resourcing and forecast with clear purpose in order to be considered for a suitable funding opportunity. There are a range of funding schemes and grant organisation. Follow these links Fundsonline or Grantsonline or Finance and support for your business to find lists of a variety of funding schemes and grant organisation. Some of these the 2 first are paid services. We can assist you in identifying and applying into the right scheme for your project. In the bid writing process we'll review your application before submission, providing suggestions to maximise your chance of success.
For UK organisations planning to undertake R&D, there are a number of schemes offering grant funding to support innovative projects. Innovate UK and Horizon 2020 are some of the organisations administering grants and funds.
Project management
We provide project management service, which includes
Business Development – we identify growth opportunities, formulate a partnership engagement and together with you initiate a profitable project. Turnover and profitability will be measured and reviewed.

Recruitment and Management – together with you we recruit and lead the project team

Finally we run the project and ensure a smooth hand-over, which includes

Be responsible for supporting the management on a specific project within agreed scope, budget and time based on best practice of PMP methodologies

Work towards project goals like time, scale, cost, quality to satisfy the client, considering internal and external regulations

Deliver quantitative and qualitative data to support decision making process

Be responsible for Risk- and Opportunity Management

Communicate with all stakeholders that influence project

Prepare staff for taking over
We use development tools to shorten developing time and minimize bugs. Furthermore test driven development also helps us building solid software. A featured opportunity is outsourcing.
Run your business even more effectively
Focus on high-value initiatives that drive growth and innovation, ensuring clients and stakeholders are managed well can be a challenging task, therefore we offer a cost-effective solution to any type of business. A strategic decision in outsourcing non-core business processes can give your organisation the financial edge it needs by reducing the operational cost, whilst improving quality, efficiency and turnaround times, and provides a flexible operating expenses.
We adopt bespoke solutions and tailor our approaches to match your requirements. We work directly with your teams to determine the best approach to design, develop and delivery. We help you to govern and administrate the processes after implementation. To maximize the effect of a strong governance streamline your non core processes. Get in touch, we will help you build a system of your need.
Advantages
Outsourcing helps to make your business more flexible and agile, able to adapt to changing market conditions and challenges, while providing cost savings and service level improvements.
improved focus on core business activities – outsourcing can free up your business to focus on its strengths, allowing your staff to concentrate on their main tasks and on the future strategy

increased efficiency – choosing an outsourcing company that specializes in the process or service you want them to carry out for you can help you achieve a more productive, efficient service, often of greater quality

controlled costs – cost-savings achieved by outsourcing can help you release capital for investment in other areas of your business

increased reach – outsourcing can give you access to capabilities and facilities otherwise not accessible or affordable

greater competitive advantage – outsourcing can help you leverage knowledge and skills along with your complete supply chain
Previous challenges such as hidden costs of provider selection or handover, severance and costs related to layoffs of local employees who will not be relocated internationally, have been mitigated or eliminated. And we guarantee successful managing the offshore relationship despite time zones, language barrier and cultural preferences.
Book an initial appointment to discuss how to manage change effectively.
Governance
CORPORATE GOVERNANCE
All organisations practice governance. Governance refers to the way in which something is governed and to the function of governing. The question is how well you practice it – if you do it well, your organisation should survive and flourish. This includes resilient performance, corporate profitability, employee satisfaction and social commitments.
We assess the area(s) of the business that you'd like to improve. Together with your goals and target we provide a report of recommended actions using tools and platforms including Capability Maturity Model Integration (CMMi) and Six Sigma to help you achieving your desired results. A strong governance will help seamlessly optimise your business and people processes across the organisation and maintain you high level of success.
The model also helps you to continuously change to improve your processes to meet the continuously changing demands and competition. Furthermore the model makes your organisation more resilient to any change from the environment.
We will provide a training to your managers to control the operation. After the hand-over we'll be provide support and regularly check-up to ensure that you continuously get the results you are aiming for. In short, performing skills are the key component to achieving the excellence that professional executives would aspire to.
PLATFORMS and TOOLS
To prepare the organisation to evolve as the market and technology evolves by truly understanding the needs of the customers, which are the requirements of the core operational system in the business. You will learn how to work with your team to implement operational processes within business end-to-end process from requirement gathering to delivering and support using CMMi and Six Sigma methodologies.
Implementation of the CMMi and Six Sigma methodology in sales and marketing, production, finance, HR (performance reviews, wage calibration) and more

Capability Maturity Model Integration 22 Keys process areas

CMMI 5 levels and map with the 22 Keys process areas

Six Sigma process DMAIC and DFSS (DMADV, IDOV)

Design for Six Sigma (DFSS) helps organizations create new products, services and processes in a way that ensures customer satisfaction by using a structured phase framework (DMADV, IDDOV, or DMADOV) with tools Design Failure Mode and Effect Analysis (FMEA) and Fault Tree Analysis (FTA)

Coaching knowledge and skills in Domains of Information, Intentions, and Ideas

Practice and debrief to involve all employees in the process
Resilient Employees and Business
An employer's responsibilities are greater than what people imagine when starting a business. Not only you need to ensure a positive bottom line, but you are also responsible for the growth of the employees working in the company. They help you meeting the targets, when they are inspired and passionate. Baker Lane House's philosophy is that happy employees make a great business, which we've found that most employers agree. We carry out
Team Performance review

Business Performance review
to create a strategic plan based on company and employee's values. Most employees agree to company values, when he/she signs the employment contract, however it is essential to revisit company values periodically to ensure that they are in-line with change of direction and strategy, which can be affected by internal change of interest or external change such as clients and the market. Company values, vision and strategic plan should be communicated to employees with the relevant information needed for them to succeed in their jobs.
Business performance based on Team performance
For each stage of the process there are a set of activities and artefacts to ensure a consistent approach and successful outcomes.
Our services include Business Performance Review, Team Performance Review, Strategic planning support and Performance coaching to team as well as team members individually. Managing remote workers is always a challenge for managers, but we can help managers keep in regular contact with each remote worker, ensuring they remain focused, mentored and part of the team. Furthermore, many companies have also taken diversity onboard as they understand the power of complementing strengths from different backgrounds, experiences, cultures, sex and much more. Also differences lead to innovation when they are nurtured. We are engaging with Women Ahead, Club 30, Stephanie Shirley and more to promote and make an impact with diversity and inclusion.
Resilience Leadership
We encourage employees to update their goals and to start a conversation with their manager frequently by answering a few simple questions about their work. By creating an on-going coaching conversation around an employee's progress, so that the manager and the employee can work together to remove any barriers, explore opportunities for both the employee and the company and set expectations accordingly. These frequent updates could feed into annual or bi-annual performance reviews.
To prepare employees to become the next generation of leaders

To train managers to become a coach for their team and gain a coaching leadership style themselves

People and team performance

Staff retention

Influence in school career development

Change management
Below is a case study of how we would help you managing changes through the organisation. Change is not the issue, the issue is the perception of the employees, who feel threatened because they relate the unknown, caused by change, with risk. In order to address the issues it's recommended to understand the uncertainties, the employees feel and address them. Also to minimise the risk they feel, the management should limit the unknown and involve the employees in the change management process as much as possible. This way they will feel that they are part of the change and they are not imposed change by the organisation.
Case study – How to impose and manage change?
Implementation of change would be best with a good plan for Timeline, Budget, Requirements and Payoff, though preparing a strategy for resistance when giving a great presentation of the plan. Clear and precise communication to all stakeholders is key. Incremental changes and win-win approach do normally work well.
Management of Imposed changes such as office consolidation, laid-off, pay-cut and much more. Some have got new responsibilities that remain ill-defined during sudden transitions, some take on double roles as receivers of change and change agents for the organisation. How do you help the people you lead at the same time you are struggling to cope?
Clarify your internal response to the changes in alignment with your responsibility to move ahead. Take others' psychic and emotional responses into consideration.

Establish positive identity in everyone in order to influence

Focus on future creation not "it's never been this bad"

Make value proposition to the organisation for example if we all do A, then B will happen and it will benefit the business

Re-assess your options, which were 2 to start with – to change or not to change. Now you can have some options in between as to what, when and how to change, it'll make it easy for people to accept and implement

Once agree on the option, put a strategy or plan in place, communicate to the team or even converse to get their inputs as well as commitments
Key Benefits
Understand the broader context in which your companies operate including the inherent tension and pitfalls associated with governance in your sector

Develop an understanding of the fundamental principles of corporate governance with clarity on the roles and responsibilities of board directors and executives

Gain an overview of the knowledge and competences expected from the directors including skills around governing across cultures and geographies, stakeholder engagement and crisis management

Develop director-specific skills that contribute to the creation of a high-performing board and corporate culture

Hone your ability to challenge executives through positive changes focused on the key issues that underpins corporate performance.

Understand the behavior science of performance – The science of resilient performance in the flow attention, the flexible thinking and the open acceptance.
Continuous Development
Pre-Master's & Pre-MBA Programmes

English for companies and government
Book an initial appointment to discuss how we can help.